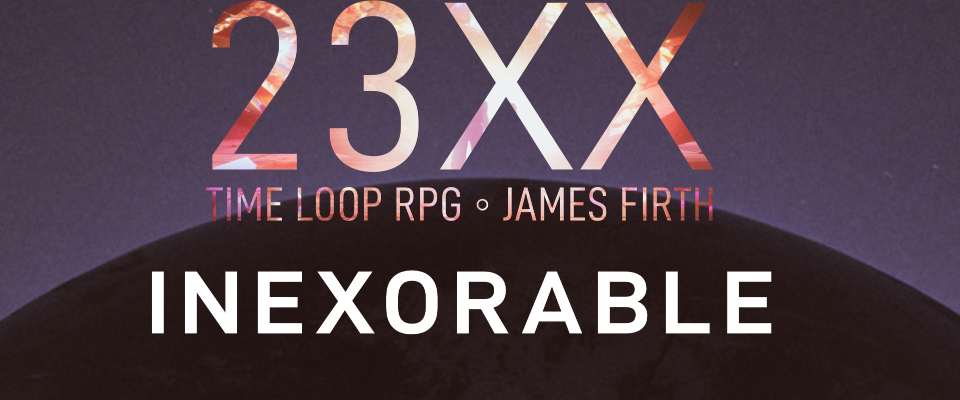 23XX Inexorable
Haven't we done this before?
You go about your duties on the starship with your crewmates as usual. But something doesn't feel right, you're stuck on repeat and sometimes the record skips and scratches.
ABOUT
23XX: INEXORABLE is a micro-ttrpg toolkit compatible with 24XX games.

Bring along a character from another game or roll up new ones for your starship!

This game includes:
Careers for characters in the organization
Simple rules for Looping time to minimize repetition
Tables for Ship Emergencies and Reality Distortion
It builds upon the 24XX SRD and can be used with any compatible game and used as a scenario creation tool, or played standalone!
INSPIRATION
23XX: Inexorable takes inspiration from the time loop "Groundhog Day" episodes
of science-fiction and sci-fi horror genre.
The Next Generation episode "Cause and Effect" sparked the idea this could be a game and heavily inspired this game.

This game was written while listening to the Spotify playlist: Sci fi lo fi🌃

Credit
Art on this page is by BEEPLE (Mike Winkelmann)
The core 24XX SRD and rules are by Jason Tocci
This game is written by James Firth

Thanks to Jason Tocci for making this game jam so accessible via great template files, examples, and guidance!

---
Feedback, comments, and constructive criticism appreciated! This is my first step into game design.
Purchase
In order to download this game you must purchase it at or above the minimum price of $3 USD. You will get access to the following files:
23XX_inevitable_v0.1.1_singles_hq_digital.pdf
1 MB
23XX_inevitable_v0.1.1_singles_small_digital.pdf
176 kB
23XX_inevitable_v0.1.1_spreads_hq_digital.pdf
1 MB
23XX_inevitable_v0.1.1_spreads_small_digital.pdf
173 kB
23XX_inevitable_0.1.1.md
10 kB
Community Copies
Support this game at or above a special price point to receive something exclusive.
Community Copy
If you're in need and cannot afford a copy of the game, help yourself to a community copy. No questions asked.

Each sale contribute a copy to the community copy pool.

Comments
Log in with itch.io to leave a comment.
This is awesome! There's so many fun bits to it. I wanna see the body swap scenario play out.
Thanks!
Yeah the body swap felt achievable in a system as rules lite as this, since the friction learn a new character is very low compared to a crunchier game.
Hope you enjoy it and I would love to hear about your experience if you play!
I like that you lean on the fact that there are a bunch of 24XX games so you can repurpose space for your new rules. Smart!
The scenario itself is extremely my jam, but I think the little thing that is my favorite is how each officer role has that extra little interaction ability. My guess is that's weightier in play than it reads.
I was very worried about space and also wanted to make it unique mechanically so it dawned on me on Sunday to rip out gear.
Thanks! I was really keen on that player empowerment and knowledge their character always has some ability. So much else in the GM's control I thought this helped balance the scales a bit.
I think that will be the case! I haven't had a chance to play through with others yet because I wanted to get my entry completed over the weekend, else I was worried it was end up in the "never finished" pile of weekend projects.
Thanks for taking the time to read it and give feedback! If you happen to play it I'd also appreciate any further comments